FAST HOSTING ON GREEN SERVERS
If your website is slow you're losing visitors. When someone clicks on a link to your site your website server must respond quickly. Until the server responds nothing will seem to be happening and people will not wait long before giving up on your site.
Google are very clear that the speed of your site will also affect your search result placement. By hosting your website with us you will ensure that the reponse is quick and that Google does not penalise you in the search rankings. You can read more on Google's official blog.
In addition to this, you may pay less for your Adwords adverts. The position of your Adword advert is determined using two metrics- bid price and quality score. These metrics are multiplied together to give a score used to determine the position that the advert will show. Google reduces the quality score of pages with a high bounce rate and a slow response- both of which are directly affected by the web server's speed. Speeding up your website can mean that you pay less in PPC to get to the top!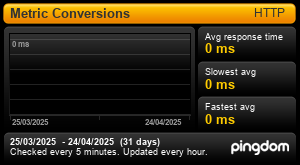 Our servers are fast and underloaded. By using the latest technology and not cramming our servers with as many websites as we can (which is how some hosting companies make their offering so cheap) helps your website to be as fast as it can be. There are other things that you can do to make your site faster as well that are discussed in our tutorial - how to make your website fast. Take a look at the live response time data from our busiest site, metric conversion, which serves over a quarter of a million pages a day and still responds faster than the vast majority of sites on the net.
If you are interested in finding out more about our hosting, please call us on 01983 861990 or email us at support@wight-hat.com.