RELIABLE HOSTING FOR YOUR WEBSITE
Servers are just computers and they do go offline for many reasons; power cuts, software crashes, damage to communication cables to name a few. There is no way to guarantee a single server is up 100% of the time. For this reason, most hosting companies will advertise a 99% uptime but they cannot say 100%.
Our hosting is different since we host your website on at least two servers (in different locations) so that if one server should fail the website is still available from another server. This is known as redundant hosting. We always use servers on different continents (normally one in the UK and one in the US) giving protection from natural disasters such as earthquakes. The chances of two servers going down at the same time are very small indeed. We constantly monitor each server and should there be a problem with one of them we are immediately notified. We immediately fix the issue on one server whilst the other server continues to serve your website normally.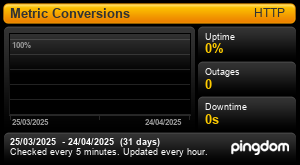 Take a look at the live uptime data of our busiest site (on the left), metric conversions, which serves over a quarter of a million pages a day and continues unfaltering.
If you are interested in finding out more about our hosting, please call us on 01983 861990 or email us at support@wight-hat.com.